Micro-Hebocon: Robot Battle at PS1 – Saturday night, October 20

First, what is Hebocon? It's a "Crappy Robot Battle" where technical skill is a penalty. It's a small sumo robot battle in which robots should be simple and made from household supplies, when possible.
This video is very funny and explains it perfectly.
So what is Micro-Hebocon?
Micro-Hebocon is a robot built on a specific windup motor – one which provides power to the robot for about 4 seconds. So in those precious few seconds, these very small robots have to try to push a similar robot out of the sumo ring.
This something I came up with while at a Lego robot contest in 2016. I did a Maker Faire version in 2016 that went pretty well. The motors (and keys) are cheap, so I ended up buying about 40. From Here.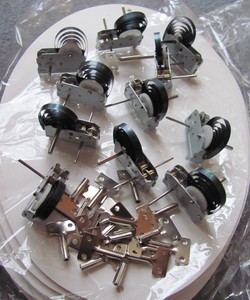 This grown-up version entails the following:
All participants pick up a motor at least a couple days in advance of the battle – October 20, 2018.
I have lots of STL files for 3D printing chassis, gears and wheels. However, as I make my own robot to battle…. I'm just sticking on some wheels and some ram-like front armour – whatever it's called. It's supremely crappy.
On this web page are zillions of pictures and videos of micro-hebocon robots.
UPDATE:
We've done some shopping and will have an Improvised Round. So even if you didn't make a robot, you can grab a motor, go through the micro-junkpile on the table and make one on the spot. There will be a "secret hardware selection" that everyone can use; like Iron Chef of crappy robot building.
We will also have a drag race track.
Pumping Station:One – a Hackerspace
3519 Elston Ave.
Chicago, IL
Attendees 21 and over.
UPDATE 2: It went well!!! Here's the video!
Micro-Hebocon Robot Battle at PS1 – October 20, 2018 7 PM